Discover more from first quarter moon slush
a monthly-ish mish-mash of musings on the body (mine ofc), the planets, & the culture
jan 14 2019 - color-coded productivity
some true, earnest thots on streaks, eclipses & ~millennial burnout~
[this is not spon-con but] entering this ~new calendar year~ thinkin about my todoist 'karma' [don't get me started] streak [currently at 12 days], which uses points to quantify and reward how productive i am. this screen grab means i'm doing very well.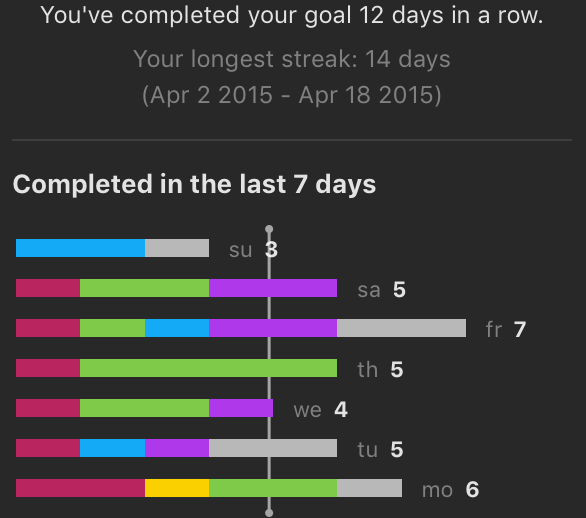 [photo: a screenshot of my color-coded productivity]
i'm thinking about::: how useful it's been to color code my tasks, itemize things to the smallest degree so that i can just do something and maybe find that thing called 'momentum,' because i just started a 5th job [for real, tryna quit one soon, don't ask me] and really this is the epitome of millennial productivity porn, one my fave porn varietals [a close second to lifestyle porn];;; and the pathetic technology needed for me to be a functional human in a calendar year where that millennial burnout article && its impt follow-up response are some of the hottest hot takes of the year so far.
i'm thinking about how if i finish this draft before midnight, i'll up my streak to 13 days.
my 2015 record seen above was when i was scrambling my last semester of undergrad [yep, i really am this old/young. horrifying!] to finish my thesis, doing the work-study, full course load, taking extra dance classes while they were free, and more being extra.
i took a break from todoist after college (b/c why would i keep…) and decided EOY2018 [lol] to see if the system would be effective for me again since super basic tasks and the sheer excessiveness of it all have/had been overwhelming.
so what's different this time?
it's capricorn sun szn and the moon is in taurus and we're in b/t two big eclipses (solar on jan 5 and lunar on jan 20) so maybe i'm swirling in all the changes that are being offered by these planetary movements.
and in reflecting on this growth that's supposedly been happening in this time [meh], i'm tryna hope that the weariness that i feel [about this capitalistic logic avec minimalist aesthetic du jour] is enough.
it is. my exasperation is not measurable in an outwardly shiny way with a carefully curated color palette to code each emotion I feel. my eye roll acknowledges and resists the contradiction of tryna GTD® [really, it's ® ….] /get the most things done ever and tryna rest, love myself, and love my fam/friends/community more.
i wake up in 6 hrs… ;)
sometimes an eye roll is just an eye roll
it's a process y'all
some fave new year horoscopes
Naimonu James is back! "dynamic failure"
chaninicholas did this: 2019
and gala @ nylon ofc: jan 2019
I could spend time reading, absorbing, and reflecting on this.
or I could take a pass on *slow time* and keep checking off more tasks
these feel like the choices
some new year bops
"Juice" by Lizzo [icymi but really, how could you have?? you must hate instagram too]
"Nights Like This" by Kehlani ft. Ty Dolla $ign [audio vibes remind me of 2017's Touch, but the video's like 2019 cyborgs]
"Dancing with a Stranger" by Sam Smith ft. Normani [he's finally provided the mid-tempo 2-step soundtrack for your next 22 emails you'll write. And Normani's vocals. also 'lewk what u made me do' lol]
fave twitter gross over-simplification that's still hilarious
[if you ignore all the millennials with parents who give them monies -__-']
~twitter is my fave for a reason~
xo ~~~ ♡ benedict